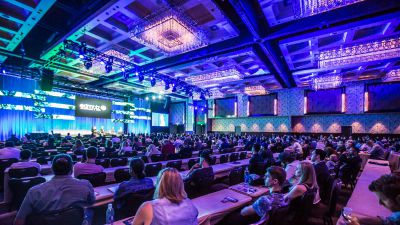 In June of 2015, BML-Blackbird provided full-service event production for Insomniac at the EDM Biz conference in Las Vegas. The conference grew in the past two years from 450 to more than 600 attendees. This year, the event included high-profile speakers such as Austin Kramer from Spotify and CEO of Billboard, John Amato. It also drew rising artists such as Krewella and Nicky Romero.
Insomniac needed one of the best technical event production companies in NYC that could handle it all, and after we handled the technical production so seamlessly for them last year, they knew we were the right fit. This event was a large expo combined with a conference, all happening at the same time under one roof.
Over the course of the two-day event, we provided innovative lighting and drape solutions, comprehensive audio and video services as well as production coordination. In addition to the work in conference, we utilized our audio and video expertise, to construct a Delta Airlines DJ booth that became one of the focal points of the event.