When you are planning a major business conference, delivering an innovative and memorable experience for your client and guests is the primary goal. You need to create a business conference that is engaging and enhances your message. In today's complex business environment, especially in a market as competitive as New York, in order to stand out you need to incorporate the latest sound, lighting, video and event staging technology.
Event staging is often an overlooked element in the creation of a successful conference. Event staging often incorporates complex elements such as rigging and lighting trusses, video screens, flown sound systems and even soft goods like scrims, drapes and set materials. There is also the logistical element of staging that is a crucial component for success, including load-in and setup, and of course the many safety precautions involved.
Working with a full-service technical event production company for all of your event staging needs can ensure that each element of your staging including sound, lighting and video are in capable hands. No matter how complex your staging requirements, the professionals can handle every element, from load-in, set-up and operating the lighting and sound during your conference to pulling any necessary permits and getting engineering approvals.
Let's examine some of the major aspects of event staging and how working with a professional technical event production company can make your job easier.
Staging Design, Planning and Pre-Production
Does your venue have staging in-house? Will you simply need to supplement existing staging, or design and build from scratch? Whether your conference requires a simple platform for the Chairman's address or you're entertaining conference goers with a Broadway review during dinner, your technical event production company can help you to design the perfect event staging. If you're working with a company that has been in business for some time, they will most likely have experience working with your venue.
They'll know the logistical challenges, staff and existing infrastructure that you'll be dealing with.
Your technical event production company will create the perfect stage to fit the needs of your venue, your talent and your overall aesthetic.
Set-Up
If you require a full build, they can handle all of the elements including the staging, trussing, lighting and sound. Your event staging will be built to meet the needs of your talent and venue, whether it's a simplistic speakers panel or an impressive rock concert. Your technical event production company will also assist with permitting and, if necessary, engineering approvals to meet the highest safety standards.
Once designed, your staging gear will be prepped and loaded onto a truck in the proper order to be unloaded as needed. The truck is loaded and taken to the venue where it is unloaded and set-up by a team of professionals who assure the highest levels of safety and attention to detail throughout the process.
Incorporating Lighting and Sound
One of the major benefits of working with a full-service technical event production company is their ability to incorporate and provide any sound, lighting and video elements along with the event staging.
Professional technicians will assemble the appropriate lighting system to meet your event's aesthetic needs. This lighting can then be incorporated into your staging plan including hanging lighting trusses and rigging when necessary. It's all loaded onto the same truck (or trucks) and unloaded in the order in which it is needed. Your crew will have the experience of working together and can set up your event's technical needs quickly, efficiently and safely.
Planning and Attention to Detail
Another major benefit of working with a professional technical event production company for your event staging is the depth of planning and attention to detail. Since they have worked on thousands of events like yours, your technical event production company will plan for every detail of your event, including how to resolve any problems that may arise.
They understand that even the best contingency plans may fail if critical safety issues and other minor details are not carefully planned and accomplished. For example, disability access, marking points of entry and exit, seating and sight lines are all important details that need to be considered during the planning stages of any event. Your technical event production company will consider everything and be prepared to deal with any issues and needs from the simplest to the most complex.
Safety Is The First Priority
Your audiences', speakers' and artists' safety is always a top priority when you're working with a professional company. They will take every precaution with your staging to ensure that everyone is kept safe throughout your event, from the load-in and stage build until the last guests have left the building.
Event staging must be able to safely support the loads to which it will be subjected. It must remain stable and any covering like carpeting or cabling must be secured to prevent tripping and ensure safety.
Soft goods like drapery must be kept away from stage lighting and be made of fire retardant material. Step units must be appropriately spaced and have an acceptable rise and tread. Fire exits must be kept clear and clearly marked. If sets or lighting are rigged overhead, sufficient support cables of the appropriate strength must be used. All of these details (and many others) are crucial to maintain safety, and your technical event production company will make sure each and every detail is met before they sign off on the build.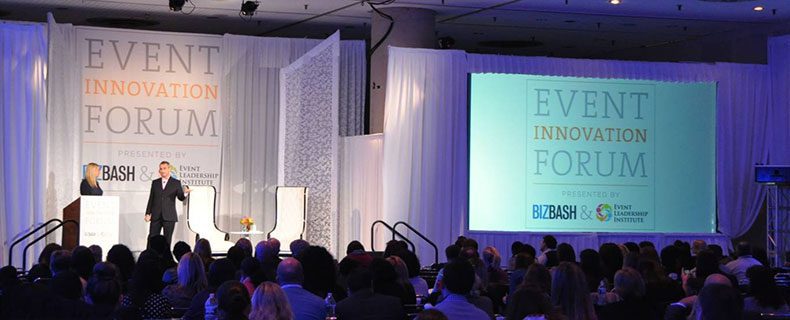 Don't overlook the importance of staging at your next event. Partner with a professional, full-service technical event production company and you can rest easy, knowing that all of your event staging, lighting, video and audio needs will be taken care of efficiently and safely. A good company will function as a partner and share the same excitement for your event. They will provide all of the gear, along with a talented crew to handle the load in and build, along with technicians and production staff to make sure your event goes off without a hitch. Their primary focus is on the success of your event and meeting your creative vision as well as your event goals.
Your technical event production company can take your creative vision and bring it to life, creating the kind of magic that will leave your guests talking about your conference for weeks. Their knowledge, experience, expertise, creativity and talent will give you the confidence to hand off your event's technical needs, including event staging, and free up your time to focus on the myriad of other details that go into a successful event.