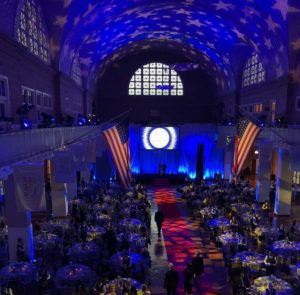 The historical main hall structure at Ellis Island boasts an expansive interior space with a 60' high ceiling.  BML-Blackbird's commitment to providing the best audio experience possible at the historical venue led us to add numerous exciting new product offerings to our extensive rental inventory.
We brought in the experts from SIA Acoustics, one of the leading audio consultants in the country, to analyze the venue's acoustical properties and to advise us on how to make the best overall improvements.  Based on their recommendations, we implemented a new portable sound system that includes the following:
AUDIO EQUIPMENT
We have purchased a brand new L-Acoustics Kiva II line array system.  The Kiva II is an ultra-compact line array offering exceptional long throw capability and 100 degrees of horizontal coverage.  The combination of a sleek aesthetic and superior performance make it the ideal system for this venue.  This system includes L-Acoustics line array tops, bass cabinets, and multi-channel amplifiers.
ACOUSTICAL BAFFLING
Utilizing the materials specified by SIA, we have designed a customizable portable baffling system to dramatically reduce the acoustical reverberation throughout the space.  This will help increase speech intelligibility and musical clarity.  The acoustical panels hang on a portable support system and are covered by velour drape panels in a color approved by both management and the National Park Service for use in this space.
The entire audio and baffling system must be completely installed in the brief window from when the museum closes to the public to the doors opening for any event.  We continue to meet this challenge on each and every event.
"Finally after all these years – a company that can do it!  Best audio quality ever on Ellis Island!  Beautiful lighting design and exceptional customer service.  Proud to call BML-Blackbird our partners!"
Patti Golden – Director of Sales, Stature of Liberty/Ellis Island
"The team at BML-Blackbird did an outstanding job alleviating any concerns about audio-visual. With your team newly in place at the venue, you worked everything out perfectly.  The material changes you made to the room to create better acoustics and your ability to work through our needs in advance of the event made for a seamless evening.  I will heartily encourage any meeting planners looking at Ellis or other NYC venues to feel confident if they select you for their A/V vendor."
Angela Cox – Group Director, Meetings & Events, Northstar Meeting Group
"I have been catering events at Ellis Island since the 80"s.  Sound, in particular has always been an issue as Historic Venue was never conceived as an event space.  The system that BML has recently installed is nothing short of brilliant!  They have finally solved the problem. The sound is actually now amazing.  Kudos to BML-Blackbird!"
Ronnie Davis – Managing Partner, Ronnie Davis Productions
BML-Blackbird is the leader in technical event production services throughout New York and New Jersey.  BML-Blackbird's love of technology and rich history of experience in live production is the core of our operations. We not only know about all the latest and greatest products, but understand how to best use them for our clients. Our experience makes us specialists in creating resourceful solutions for even the most unique and challenging scenarios.